Compliance Formula
Successful Strategies of CMMC Compliant Companies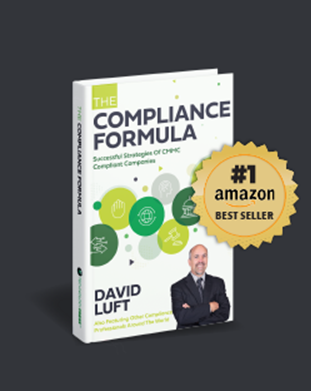 The Definitive Guide
to Understanding and
Implementing CMMC
Everything You Need to Know to Win
DoD Contracts and Squash Your
Company's Vulnerabilities from
Hackers, Data Theft and
Ransomware
* The authors of this book have DONATED all royalties to
St. Jude Children's Hospital
Here's Why You'll Want to Get Your Hands on This Book
Cyberpunks are costing the Department of Defense, its contractors and subcontractors BILLIONS of dollars each year, and in the process making our country much less secure.

If your business handles any Controlled Unclassified Information (CUI), you must also be CMMC compliant.

Crime organizations are paying hackers up to $90K a MONTH plus benefits to get them to hack into businesses like yours.

If that isn't enough to get you to care about your business being CMMC compliant, the Department of Defense will very soon begin including CMMC requirements for any businesses under contract that works for them.

You cannot and DO NOT want to miss the opportunity to make sure your business is CMMC compliant, so you can get ahead of the pack and enable your business for more and greater opportunities and stand out from your competitors.
Achieving CMMC compliance is vital for survival for almost every business today. This book will give you multiple new ways to PROTECT you from a number of cyber threats, regulatory action, scams and business-crippling disasters.
Here's what one reviewer thought of the book.
"I am confident those that read this book, and in particular, your chapter will find it of great benefit and clarity to understanding NIST 800-171 and CMMC 2.0."
"LDD Consulting's seven core cyber-hygiene strategies described in Chapter 6 is structured in a well-thought-out manner to walk/guide a company through the necessary steps required in order to become cyber-security eligible to compete for federal contracts.."
Key Points and Knowledge You'll Get from the Book
The #1 risk that is affecting millions of small businesses today, that if left ignored, could result in lost business opportunities, fines, and worse.
9 CMMC key practices every small and medium-sized business (SMB) must have in place if they want to bid, win, or take any part in an extremely lucrative government contract market.
THE CAUSE OF OVER 90% OF ALL BREACHES and the critical six-step process that helps you successfully weave CMMC compliance into your culture to help protect your company.
…And so much more.
* The authors of this book have DONATED all royalties to St. Jude Children's Hospital
©2023. LDD Consulting, Inc. All Rights Reserved.